Most people think that men are not particularly concerned about how they look underneath their clothes, but the fact of the matter is that most men are very body-conscious and want to look good both in their clothes and out of them. They're interested in feeling good about themselves and impressing their partners in the bedroom.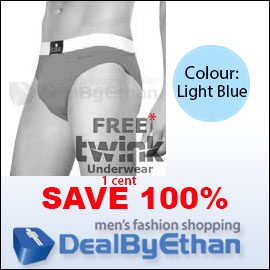 An excellent way of doing this is by donning a pair of Twink Solid Glovebox underwear. You'll feel confident. You'll feel sexy. You'll feel comfortable. And you'll tell your partner that not only did you exert effort to please her, you also placed quality at the top of your choice checklist.
Twink Solid Glovebox underwear. Not only are they stylish, sexy and comfortable, but now, for a limited time only, they are FREE at DealbyEthan.com! So, what are you waiting for? Take advantage of this amazing offer today while supplies last!