Everyone wants to look good, but achieving this often needs more than just regular exercise. Sometimes, we need a little extra help, and this is where Body Tech underwear comes in.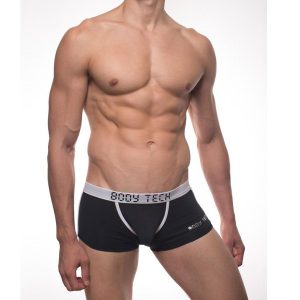 Body Tech has gone through a series of changes over the past decades and has become an excellent manufacturer of high quality, enhancing, body-conforming undergarments for men. One of the techniques that they have mastered is producing undergarments using nylon stretch material that maintains its shape while accentuating the contours of the male body.
Body Tech underwear comes in a variety of fun colors and designs that will definitely turn your partner on. This high quality, comfortable underwear is also unique in that it has non-elastic openings and styles that maximize a man's assets, such as this Cobalt Maximizer bikini underwear. Apart from bikini underwear, Body Tech also offers briefs, boxer briefs, thongs and shorts. Regardless of style, each piece from the Body Tech collection is created to be distinctive and impressive.
Purchase your Body Tech underwear at DealByEthan.com today and take the first step towards looking your very best!