The top male facial treatment currently trending: BOTOX® — also popularly known as Brotox.
By Kelsey Nguyen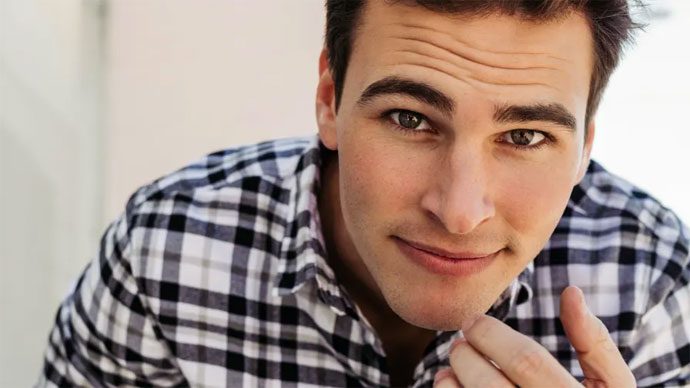 There's a reason why Dr. Jason Emer has over 107,000 Instagram followers (60% of his male patients found him via Instagram) and 2.4 million views on YouTube. Three words: beauty without boundaries. The acclaimed dermatologic surgeon believes in the philosophy that bodies do not follow rules — a principle that is reflected in his services. His West Hollywood practice is home to a colorful range of cosmetic and dermatology offerings: Hi-Def liposuction, laser skin treatments, and of course, facial sculpting.
From fillers to fat injections, Dr. Emer specializes in facial sculpting treatments that volumize lips, plump under eye areas, and create chiseled jawlines. However, for his male patients, there is one facial treatment that is particularly trending: BOTOX® — also popularly known as Brotox.
The past few years have witnessed a surge in male BOTOX® injections — in fact, according to the American Society for Aesthetic Plastic Surgery, the number of men who received BOTOX® doubled from 2010 to 2016. Not only is this a momentous increase, but signifies a gender shift from BOTOX® being typically female-oriented to the male-dominated Brotox edition. Long story short: in today's age, men are no longer shying away from BOTOX® treatments.
BOTOX®, also known as botulinum toxin, is a protein produced by the bacterium clostridium botulinum. When injected in small amounts via needles, BOTOX® prevents the muscles from contracting — the motion which causes those problematic wrinkles. The pain from BOTOX® injections is usually minimal and requires little to no recovery time. Apart from reducing the appearances of wrinkles and sagging skin, BOTOX® is also commonly used to treat muscle spasms, migraines, and headaches. Popular injection sites include the forehead lines, crow's feet, and frown lines.
At the end of the day, men also have aesthetic desires they want to make into a reality. They're dreaming of defined jawlines and youthful complexions free of frown lines, and luckily, Brotox is their golden ticket to inner and outer beauty — beauty without boundaries, to be specific. Looking rejuvenated has its own kind of psychological power: confidence. A study conducted by Men's Journal revealed that men who look and feel younger are more likely to have the upperhand in the cutthroat job market. Here's to men adding BOTOX® to their career to-do lists!
We spoke with Dr. Emer about the rising Brotox boom and his personal outlook on the dynamic between modern men and cosmetic procedures.
What is the main reason why men get Brotox?
"Because they want to prevent wrinkles from forming," Dr. Emer says. "Most men notice wrinkles on their forehead, between the eyebrows, and around the eyes, and feel that they develop an 'unapproachable' or 'mean' look. By getting Brotox, it softens the look of the forehead, eyebrows, and eyes, giving them a more inviting appearance. It also prevents wrinkles from forming long term in these areas."
Cosmetic procedures are traditionally associated with women. Do you think there is still a stigma in 2018 with men getting cosmetic procedures?
"Not anymore! With social media, influencers, and celebrities getting treatments as prevention (EX: BOTOX®, peels, skin care, makeup, lasers, microneedling), men of all ages are coming in wanting to look and feel good compared to their female counterparts," Dr. Emer explains. "Men just want subtle, natural results that keep them 'unchanged'. If you could freeze their youthful look in time, they would want to maintain that so they never get an overdone, frozen or unnatural appearance."
Due to influence by online media, Dr. Emer reveals that it is now extremely common for men to get monthly facials and peels, laser and BOTOX® treatments every 2-3 months, and yearly Ultherapy and Thermage to prevent skin sagging. "Many men opt for facial implants and buccal fat pad reducations to contour their face structures," he says. "For the body, they will do HD liposuction to make their abs or muscles pop."
What do you think the relationship between men and self-care will be in the future?
"It is a HUGE market and rapidly expanding to include makeup lines for men, skincare for men, body treatments and supplements just geared at what men want."
Apart from Brotox, what are some other trending cosmetic procedures for men?
"HD liposuction, fat grafting and Sculptra® to build buttocks, Bellafill® for shoulders and biceps, penile fillers for size, PRP (platelet-rich plasma)/shock wave therapy for harder/faster stronger erections and sexual gratification, Facetite® to contour jawlines, customized facial implants to customize facial shapes, J Plasma®/Renuvion to create six packs with liposuction. And of course, BOTOX®, fillers, lasers, peels, and skincare to stay looking young and reverse sun damage and sun spots."
If possible, can you share a personal experience you've had with a Brotox patient?
"Most of my patients use BOTOX® in standard injection sites like the glabella (area between the eyebrows, 11 lines (wrinkles that develop between the brows), eyebrows, eyes/crow's feet, forehead lines, and the jawline. Many also use it in the armpits, hands/feet, genitals, and buttocks to reduce sweating," Dr. Emer reveals. "Some of my patients even do Scrotox to stop ball sweating and make the testicles descend. I have many that do anal botox as well! You can suspect that, being as I am in West Hollywood!"
This article originally appeared on Aedition.