Ajaxx63 is one of the few men's clothing brands that cater specifically to contemporary gay culture.
Ajaxx63 first began selling its products at the Pride Festivals and became an over-night sensation. They also made an appearance in the first season of "Queer as Folk", and gained their foothold in the gay fashion industry after becoming partners with Gay.com. This move allowed them to reach their zenith and become a cult name in the gay retail industry.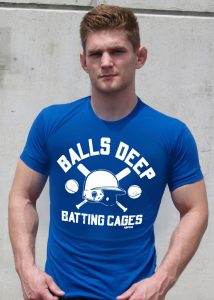 Ajaxx63's beanies and caps are manufactured using high quality fabrics. Their fine workmanship, smart styling and multi-color embroidery are all hallmarks of this line. Their long-sleeved T-shirts reflect the athlete in you in a tasteful yet sexy way, and their great fit is due to the naturally stretchy quality of the light thermally woven cotton. Their range of sleeveless, muscle top T-shirts is truly made for the hunk inside you, and the funky messages written on the front add to the cool quotient. Ajaxx63's short sleeved T-shirts are available in more than 70 variations. These T-shirts hug your body, emphasizing your masculine sexuality, while their range of tank top T-shirts made of 100% cotton are not only sexy, but outstandingly comfortable and durable as well.
Ajaxx63 does not believe in compromising comfort for style, and they use only the finest fabrics. They redefine the concept of a T-shirt by making theirs energetic, modern and fashionable.
To check out all the Ajaxx63 products, visit DealByEthan.com today and browse the entire collection!