Do you really feel that the sight of your old ordinary underwear is just too much for you to bear? Do you really think that the old thing is tarnishing your image? Now don't lose your heart. Candid, a brand from United States introduces yellow chromatic brief underwear that has the power to make your bleak life colorful.  Candid understands your needs. A drab underwear only providing comfort is not your choice any longer. You want to look smart, classy and dashing. Candid Yellow Chromatic Brief Underwear looks after all these demands.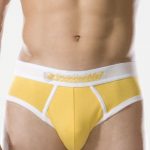 The line Candid from the time of its inception has always placed comfort and fashion on the same plane. It believes that the two are inseparable. A quick glance at the product proves this fact. The chromatic brief underwear has a unique cut and design that completely alters your looks. The base color is yellow which is contrasted with white piping at the borders. This color combination makes this product quite attractive. The brief underwear comes with a shapely spacious pouch and a 1.5'' broad waist strap. It makes you comfortable and stylish at the same time. The brief is low cut which enhances your figure.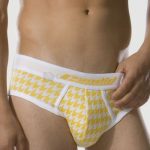 Candid brief underwear is made up of cotton (95%) and spandex (5%).  Cotton provides utmost comfort, whereas spandex ensures the elasticity of the brief underwear. Candid has also experimented with colors. Thus we find a most unique combination of yellow and white. Generally brief underwear comes in typical colors like black, red, grey etc. but very rarely can one come across yellow chromatic shade. It is just the one you need to look sizzling! The presence of right proportion of cotton and spandex makes it stretchable and thereby cling to the body. So now when you select your brand think twice and find out if it offers such great variety! The brief underwear is available at four different sizes- small, medium, large and extra large. So everyone can grab it now!
Brief underwear became popular with men because unlike boxer briefs it does cover your thighs. Especially during the summer months this underwear is in great demand as it avoids stickiness or sweating. The cut and patterns make you appear shapely and alluring. You feel good when you extract admiration from the opposite sex about your manly appearance. You want to be dynamic and fill your life with the colors of joy, love and enchantment! Those who love the colors of life this is just the right one for you!
You can acquire this product from our website DealByEthan which offers great discounts on mens apparel!