Men who are fond of contemporary fashion and adore the classic fit will definitely admire the Score collection of apparel that basically consists of sports briefs, brief underwear, thongs, boxer brief, tank top shirt and t-shirts for men. The brand is renowned for paying attention to every single detail when it comes to designing different types and styles of menswear, and as a result, you get to lay your hands on some of the most daring, bold, sexy, erotic and colorful apparel!
They do not believe in manufacturing just about any kind of clothing for men, and rather focus on offering patterns and styles that are more traditional and comfortable. Score believe in offering simple yet comfortable designs, cuts and patterns. Their products are all hand crafted in America and are made using 100% cotton fabric. You will easily be able to distinguish Score underwear from other brands of underwear even from a distance, as every pair carries the blue Score logo in Satin as well as the blue stripe that rings the elasticized band.
If you belong to today's generation and have a fetish for patterns and styles that are liked by traditional yet modern men then Score wouldn't disappoint you at all! Their sports brief style is meant for men who lead an active lifestyle. They offer complete freedom of movement and offer excellent support for the male package. The Score brief, on the other hand, is more sophisticated and stylish and incorporates every feature that men desperately seek generally in underwear. The Boxer brief collection offered by Score comes with contoured front pouch and offer immense amount of support for the wearer's package. However, the Thong style offered by them is more sexy, stylish and elegant. It is meant for men who are bold and adventurous. No matter what pattern you are looking for Score is capable of offering everything to you.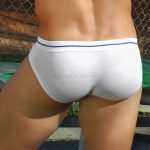 You could very well give the SCORE Underwear Sports Brief (available in white colour) a try. It is made of 100% cotton and is meant for men who love indulging in all kinds of sports, adventure trips and activities. It features a waistband that is never too tight around the wearer's waist and is extremely soft and smooth. The pouch of this particular sports brief offers a lot of room and comfort for the wearer's package. So, what are you waiting for grab this exciting sports brief right away!
You can place an order for SCORE Underwear Sports Brief at our website DealByEthan and grab some exciting discounts and offers on a wide range of apparel for men!