"If I take you from behind, push myself into your mind…will you try and reject it?"
Remember this Madonna song, "Erotica"? If you`ve always dreamed about a garment that would make you feel special, sexy and bursting with erotic sensations, then this is the perfect garment for you.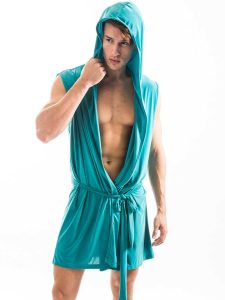 The N2N Bodywear sheer split shorts  are made for these kinds of erotic moments. It`s made to inspire, awaken passions, induce yearning and make you erupt with…well, you know the rest.
N2N Bodywear Sheer Split Shorts are made from a very sheer fabric that is a blend of polyester and spandex. These shorts reveal just the right amount and are designed to put an erotic spell on anyone who sees them. So handle with care, because this baby is made to seduce! The waistband is very loose fitting, partly for the sake of comfort and partly so that it can be easily removed. 😉
So, if you want an erotic garment that will make jaws drop, surf over to DealByEthan.com and get your Burgundy N2N Bodywear sheer split shorts today!