What you wear at night or what you wear for relaxing does not really matter as no one really sees you then. It is due to this reason that designers concentrated mainly on the formal clothing segment of various menswear earlier. It was only a few years ago that some talented designers realized that fashion conscious men are quite finicky even when they shop for their loungewear. Men's loungewear, which includes a lounge robe, pyjamas, lounge pants and cool pants and shorts are ideal for relaxing after a hectic day's work.  However, one outfit that men prefer most as nightwear is sleeping pants.
To meet the demands of men, fashion designers nowadays are devoting their time and energy towards creating some very stylish and modish sleeping pants that are meant to provide utmost comfort. Therefore, designers are careful in selecting the fabrics that are used for creating this outfit. Just set your eyes on Amat Loungewear Sleeping Pants! They are made from muslin or from the cotton thread that is unbleached. A breathable fabric, sleeping pants crafted from muslin helps to elevate your comfort level. It can be regarded as an ideal nightwear for summer. The light and cool colour is also quite soothing.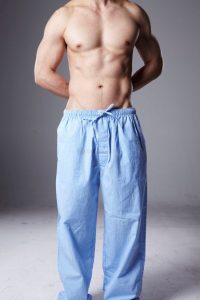 Amat is a popular line manufacturing men's underwear, swimwear and loungewear. Eminent designer Amat, who is a Thai photographer by profession, started this brand. Since its inception, this brand has been creating some excessively stylish and sexy menswear that helps in enhancing the manly physique of the wearer. In fact, being a photographer, Amat has an idea about what suits a manly physique. Whether it is loungewear, underwear, or even swimwear, each item of apparel is crafted to make you look attractive. Apart from sleeping pants, Amat also designs boxer brief underwear, brief underwear, G string underwear, jock strap underwear, bikini underwear, loose boxer shorts underwear, long underwear Pants, bikini swimwear, square cut trunk swimwear, tank top T shirts, short sleeved T shirts, pants and other outfits.
If you are keen to get Amat Loungewear Sleeping Pants, then, visit our website DealByEthan. Our site offers great discounts on various mens apparel.