Earlier, men were left with no other option but to choose typical swimmer trunks, when they needed proper swimwear. Designers hardly paid any attention to this segment of menswear. Things have changed a lot in recent times. Fashion designers are actually coming forward with new and innovative designs; as a result, there is a deluge of swimwear designs in the market. Even boring swimmer trunks have become excessively stylish and trendy, perfect to suit any well-toned physique. New designs allow a man to flaunt his body, apart from allowing him to swim in the rippling waters.
The skimpy design and cut of men's bikini swimwear is quite popular among men who like to reveal their bodies. Moreover, it also provides utmost comfort while swimming, allowing free movement of the legs. Quite a number of brands are creating this swimwear presently. However, one brand that has gained immense popularity for designing some unique bikini swimwear for men is Mundo Unico. Seeing the chic Mundo Unico Numeral 5 Bikini Swimwear, you can very well understand the reason behind its popularity.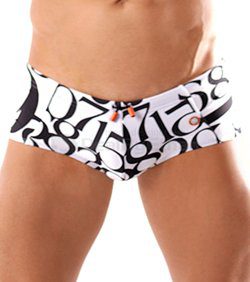 With its unique numeral print, this swimwear simply alters your looks. Do not be surprised, if you find people turning their heads and admiring your sizzling looks.  The fabric that goes in creating this bikini swimwear consists of nylon (84%) and spandex (16%). Both these materials in right proportion help to retain the tightness and stretchability of this swimwear making it ideal for swimming or other rough water sports.
Mundo Unico is one brand that produces some exceptionally stylish menswear, which is liked by all. Originating in Colombia, this brand has gained immense fame in recent years. Apart from bikini swimwear, this brand also specializes in other menswear like boxer brief underwear, brief underwear, jock strap underwear, long boxer brief underwear, thong underwear, loose boxer shorts underwear, bikini underwear, boardshorts beachwear, bodysuits, loungewear, long sleeved T-shirts, short sleeved T shirts, tank top T shirts, etc. Whether it is men's underwear or swimwear, today's fashion conscious men are quite fastidious while choosing both. Apart from being comfortable, they ensure that the design and cut of the apparel suits and enhances their manly physique. Mundo Unico fulfils this demand.
You can grab Mundo Unico Numeral 5 Bikini Swimwear or other stylish menswear at our website DealByEthan. Our site offers great discounts on various mens apparel.