Once a neglected segment in the fashion world, men's underwear is now available in a variety of designs and colors. Thanks to the eminent designers who have put in great effort to bring forward unique designs that are liked by metro sexual men, men no longer have to pick from limited briefs, boxers and boxer briefs. Now you can expect to see some unique and liberating designs that will simply enhance your looks. When it comes for choosing underwear, men always look for a pair that provides maximum comfort. Moreover, it should have a spacious pouch to provide adequate support to the package.
To fulfil all these requirements, today's leading designers have come up with innovative and exclusive underwear designs. Apart from boxers, briefs and boxer briefs, you have another popular men's underwear style called pouch underwear. Quite stylish and provided with a roomy pouch, it is ideal for those men who want to try something chic. Looking at McKillop Classic Pouch Modal Backless Pouch Underwear, you can easily understand the reason behind the popularity of pouch underwear these days.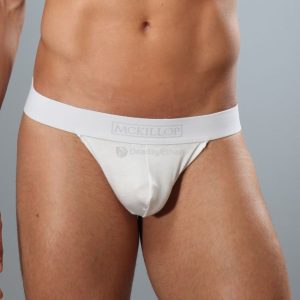 Firstly, the roomy pouch provides maximum support to your package, enhancing your looks. The pouch also has a support ring that is optional and allows you to use it when required. The fabric that is used for creating this underwear consists of modal (92%) and spandex ( 8%). Modal, being extremely skin friendly and soft, takes care of your comfort and spandex provides elasticity and tightness. Thus, the pouch retains its shape and you remain comfortable all the time. This underwear has a backless design , which is liked by today's fashion-conscious individuals.
A well-known brand from Canada, McKillop was started by Canadian designer Ryan McKillop in the year 2009. It manufactures a wide variety of menswear like boxer brief underwear, brief underwear, jock strap underwear, G string underwear, pouch underwear, short sleeved T shirts etc. Each outfit of this brand is designed keeping in mind the needs and comfort of men. These are available in a variety of colors and contrasting shades as well. All you need is to pick up the suitable one that suits your body and looks!
You can find McKillop Classic  Pouch Modal Backless Pouch Underwear at our website DealByEthan, which offers amazing discounts on stylish mens apparel.