Narciso is not just any brand and the company has proved it time and again by launching one after another extraordinary collection of men's underwear and swimwear. Narciso has always been in the limelight and has crafted some of the most different, daring and stylish looking underwear and swimwear for men. Narciso will make you feel at ease completely and you will fall in love with yourself even more as and when you step out in a Narciso creation. The brand can be credited for producing fun, strong and yet playful designs. If you want to accentuate your masculine features and look, you can slip into any of Narciso's sexy and cocky looking underwear that is truly magnificent.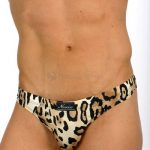 Men can also pick any of Narciso's swimwear designs that is bound to turn the spotlight on them as and when they hit the beach or for that matter even the swimming pool. If you have a penchant for slipping into something that makes you feel extra comfortable, warm and stylish all at the same time then its better you invest in Narciso. The Narciso Tejido Crochet Strapwork thong is amazingly hot and innovative. This sexy looking thong can help you revisit the sexy person hiding inside you. The Narciso GIANI brief available in exciting colours is tailormade for men who like to keep it simple and yet stylish. You may have never felt any better than in a GIANI brief, crafted from a mix of elastene and cotton that complements and enhances your body contours all at the right places. You are bound to attract people at the beach, if you move around in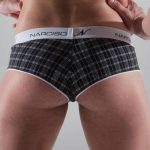 Narciso produces a range of clothing including, Bikini Underwear, Bodysuits, Boxer Brief Underwear, Brief Underwear, Jock Strap Underwear, Long Boxer Brief Underwear, Long Sleeved T Shirts, Long Underwear Pants, Long Underwear Pants, Loungewear, Muscle Top T Shirts, Pants,  Short Sleeved T Shirts, Shorts, Socks, Square Cut Trunk Swimwear, Sweaters&Cardigans, Tank Top T Shirts and Thong Underwear. So whatever, your choice, you can always bank on Narciso and the brand won't disappoint you at all. Unleash your masculine, bold and fearless side like never before in a Narciso Brief Underwear GIANI. It is made from a mix of 11% Elastene and 89% Cotton. It is essentially a dotted brief and has a cheeky yet stylish back. It has a waistband with a contrast logo embroidered on it.
Grab great and exciting deals and discounts on Narciso underwear and swimwear only on DealbyEthan! Hurry, visit us today!