Ryocco underwear is a brand that has been imported from the beaches of Colombia and has all the sensibilities and sensualities associated with the place, which is the trademark of brands from the country. However, the speciality of the brand lies in the fact that it does not merely focus on the looking good aspect of men's underwear but also focuses on it being sensible and comfortable to be worn for all day long as well.
Ryocco underwear manufactures all kinds of apparel and underwear for men. The styles of men's underwear made by Ryocco include thong underwear, brief underwear and boxer brief underwear.
Boxer brief underwear by Ryocco is available in a variety of colours, patterns and styles and you can choose from more than 35 different types! The fit is perfect – neither too tight nor too loose so that the very best aspect of your physique can be seen. The material used is very elastic and soft, and is composed of 4.6% spandex and 95.4% staple. The elastic waistband is soft, and does not feel constricting. There is an enhancement cup in their men's underwear, which is quite comfortable and gives the feature that it promises. Some of their styles of boxer brief underwear are made of a mix of 4% spandex and 96% cotton while some others 7% spandex and 93% nylon.
Brief underwear by Ryocco is available in around 8 varieties of different styles and colours – there are two basic types – cup brief underwear and wide and thin stripes underwear. As can be understood from the name their wide and thin stripes brief underwear has stripes on them. The material used is a mix of 2.9% spandex, 34% cotton and 63.1% polyester and the waistband is quite wide and comfortable. The cup one is composed of a mix of 5% spandex and 95% staple.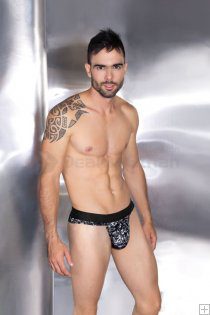 Thong underwear by Ryocco is available in 5 types and the basic types are classic thong underwear and spots thong underwear. The material used for both classic and spots style of men's underwear is a mix of 11% spandex and 89% polyester. The material is soft and the fit snug. The waistband is more or less on the wide side and there is medium to full back coverage.
Visit us at Deal by Ethan today to take a look at the entire collection of Ryocco underwear and get attractive discounts as well!