Sunga is the best answer if you want to indulge in the daring side in you. Sunga is also known as a Mankini. They are almost equivalent to the Speedo style of swimwear, but have a riskier and bolder edge to it as compared to a Speedo.
Sunga was first popularised through the beaches of Brazil where the locals flaunted this daring style of sexy men's underwear. Now, this bold style has reached out to a large number of people across the world and become a popular style of swimwear. The shape of the sunga may remind you of swim briefs with high waists and low leg cut. However, the sunga is a distinct reflection of Brazilian culture, which is all its own and unique. In fact, the beach culture of Brazil is known as the pioneer for some of the sexiest and revolutionary styles of swimwear for both women and men.
The popularity of the sunga can be attributed to the fact that they flatter the wearer far better than an average Speedo style. Both the cuts are unique and different with some difference. The cut of the Speedo exposes the leg more, and as a consequence, the cut leads to a high degree of freedom of movement. There is more coverage in the sunga style of swimwear with considerably less emphasis on the groin region of the wearer. Sunga is less clingy on the body, and since Brazil is a place of origin for the sunga, the best styles are found in and around Brazil in the various boutiques there. However, these days there are many underwear men stores online which give you a taste of Brazil in their unique collection of sunga style of men's underwear and swimwear.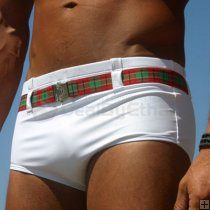 Some of the caterers of the sunga style of underwear are Arroyman, Beach Brasil, CA-RIO-CA, CB Coco Brazil, Delio Dietz, Element(o)s, Gabriel Croisser, Intymen, Modus Vivendi, Mundo Unico, Narciso, Tulio, etc. These brands with their unique designs, styles and creativity have lent a touch of Brazil in their Brazilian swimwear range to give you the feel of being at a Brazilian beach amongst the sand and surf without having to go to Brazil or search endlessly for that perfect pair of sungas. Get your sunga underwear in the most traditional Brazilian style from these online stores.
These online stores not only provide you with various styles of the traditional Brazilian clothing but they offer you full comfort, no hassles and free shipping.
There are a variety of prints and colours to choose from. The materials used for the sunga style of men's underwear differ from one brand to the other as well as from one style to the other. The various materials of the underwear include elastene, polyamide, lycra, polyester, etc. Sometimes, mixes in varying proportions of materials are used to give you the best effect.