Previously, the men's fashion industry was not as competitive as it is today and any diversification from the usual prints, colours and styles and cuts was seen as being too radical. However, these days, the fashion industry has seen a complete and drastic change from that mindset and inventiveness has come into the male underwear fashion industry, in a big way, including BG Men's! The underwear of BG Men's is unique, sexy and creative to say the least! They are just what the metrosexual men of today want and need.
BG Men's underwear is available in a range of bright and vivid colours. The vast collection of BG Men's includes apparel like boxer brief underwear, bodysuits, short sleeved t shirts, brief underwear, thong underwear, sets of t shirts and brief, etc.
Brief underwear made by BG Men's is available in a wide range of styles and colours. There is the two tone bikini pouch style, fishnet style and criss cross brief style of underwear. Their two tone bikini style is made of microfiber and cut low rise. The anatomical fit is perfect to highlight the best features and aspects of the male physique. In their fishnet style, the rear is made of fishnet, which gives a sexy look to the wearer. Their styles are such that you can not only wear their creations on regular days but also for special days and occasions. Their criss-cross series is hot and sexy, and bound to grab the attention of all in an instant! Apart from the style factor, their creations are also supremely comfortable.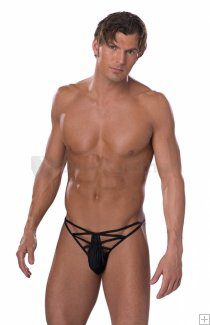 The thong underwear made by BG Men's is also available in styles that you cannot even imagine! There is the microfiber mesh insert thong, microfiber front zipper thong, microfiber studded thong, chain link thong underwear, etc. All of these are available in bunch of attractive and vibrant colours. The mesh insert thong has a piece of mesh at the centre of all attraction, giving the onlooker a sneak peek at what is there! The cut and style ensure that there is no chance of the underwear getting bunched up and making you look bad. The cut of the underwear is aimed to make you look slimmer and leaner.
Intrigued? Well then, visit us at Deal by Ethan today and take a look at the vast range of BG Men's products on offer! There is a general 3% discount on all products and on buying multi-packs, you can get discounts of up to 20%! Hurry!!