Though T Shirts have always been in vogue, it is only in recent times that several variations have made their way into the fashion world. Among the various designs, the Muscle Top T Shirt is quite popular among men, mainly because of the design which helps in elevating the comfort level of the wearer. The design allows you to wear this outfit at any casual gathering or outings. Presently, there are quite a number of well-known brand, who are bringing innovative muscle top T-shirts for men forward. However, one brand that has found its place in every fashion-conscious man's wardrobe is Svenjoyment.
Svenjoyment specializes in a wide array of menswear like bikini underwear, boxer brief underwear, briefs, jock strap underwear, thong underwear, shapewear, G String underwear, bodysuits, pouch underwear, thong swimwear, square cut trunk swimwear, muscle top T shirts, tank top T shirts, long sleeved T shirts, short sleeved T shirts, and pants etc. This brand believes in using premium fabric for creating all its outfits. It will not be wrong to mention that each Svenjoyment outfit is an outcome of immense skill and excessive effort of the brand's ace designers.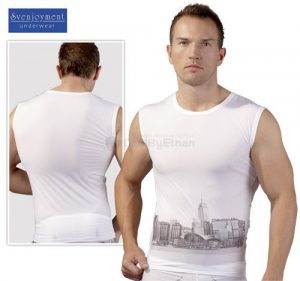 The Svenjoyment Skyline Muscle Top T Shirt shows that it can simply make your look dashing! The sleeveless design and the white shade are perfect to wear during the hot weather when sweltering heat does not allow you to wear any heavy and covered apparel. The somewhat translucent fabric makes your chiselled physique quite prominent. The grey skyline print in the front makes this outfit unique.
The fabric that is required for designing this Muscle Top T Shirt consists of polyamide (95%) and spandex (15%). Both these materials help in retaining the stretchability of this apparel. Moreover, because of these materials the Muscle Top T Shirt adheres to the body tightly, showing a nice sculpted physique.
You can find the Svenjoyment Skyline Muscle Top T Shirt at our website DealByEthan. Our website also offers nice discounts on a variety of menswear.