In recent times, quite a few South American brands of underwear for men have entered the market but Adonis underwear is one of those brands that have left quite a mark with their bold take on styles and fashion in men's underwear. The men's underwear was founded in Argentina and has built up quite a reputation for itself for sexy men's underwear within a short span of time.
Adonis manufactures a variety of different kinds and styles of underwear for men including g string underwear, boxer brief underwear, thong underwear, pouch underwear, and jockstrap underwear.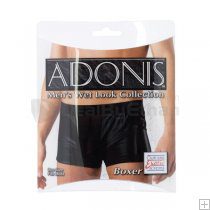 Boxer brief underwear by Adonis is designed uniquely and has a see through panel in the front, which increases its hotness quotient many times over. It has a certain wet look about the material and fit, which sculpts the body perfectly. The material is shimmery and is a mix of fabrics like 10% spandex and 90% polyester which accounts for the perfect fit, comfort, softness and stretchability. Another advantage is that one size can fit most men despite their varying proportions.
G string underwear by Adonis has a T back which makes it extremely sexy. The pouch is see-through and shimmering due to the use of 100% nylon. The fit and look is sexy and provocative without being vulgar and too obvious.
Adonis' jockstrap underwear for men forms a part of the 'wet look' collection of the brand. The material used is a mix of 10% spandex and 90% polyester and is extremely comfortable, soft and shimmering. The material is quite stretchy, and one size can fit most men of various proportions. There is an opening in the front which makes it easy enough to access.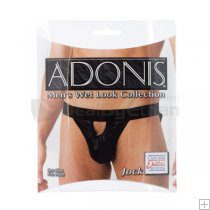 Pouch underwear by Adonis is available in two basic styles – their 'wet look' zipper pouch and mesh pouch underwear. The former has a zipper at side which makes it very convenient to wear while the mesh pouch underwear is (as the name suggests) made of mesh that is 100% nylon. It is sensual as well as stretchy.
Thong underwear made by the brand is also available in two kinds like their pouch underwear and has the same attributes as well regarding size, fit and comfort.
For more information and firsthand knowledge about Adonis underwear visit us at Deal by Ethan. We offer great discounts and amazing deals on all kinds of men's underwear and products. So hurry!