Very few men's underwear fashion brands offer that perfect mix and synchronisation of style and comfort. But Man Zone underwear manages to strike a perfect balance between comfort and style. The man inside you will be very pleased with the comfort extended when you wear this men's underwear and menswear, and your ego will be satisfied with the appreciation extended by those who look at you!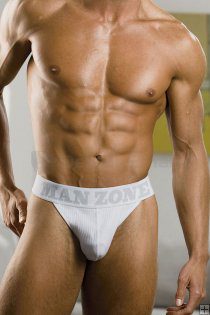 Man Zone manufactures various kinds of menswear like brief underwear, boxer brief underwear, thong underwear and tank top t shirts.
Rib brief underwear made by Man Zone is available in three basic colours- grey, black and white. One of the features of their brief underwear is that the waistband is in white. In white underwear for men, the effect is subtle but in black the effect is quite bold. The material used is a mix of 10% spandex and 90% cotton, and the elastic used for the waistband is soft and does not irritate the skin.
Man Zone produces tank top t shirts for men and is available in basic mono colours- black and white. A mix of 10% spandex and 90% cotton is used to craft this piece of menswear. The neck is square shaped which adds to the uniqueness of the clothing for men.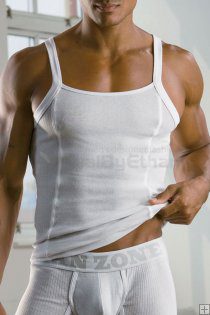 Thong underwear for men is one of their most popular items in men's underwear due to the sexiness factor that it adds to the appearance of a man. Man Zone manufactures rib thong underwear. The thong underwear produced by Man Zone is available with a Y back which is quite unique, creative and adds to the comfort factor. The back increases the support extended overall. The design of the pouch is good, comfortable and supporting. All your private parts will remain safe from shock, and in addition you will be getting a boost or lift in the package department due to the superior engineering involved in the construction process of the thong underwear made by Man Zone. The material used to create each piece of thong underwear for men is a mix of 10% spandex and 90% cotton. The style is available in all the usual colours like white, black and grey; making the style look subtle and sophisticated.
Visit us at Deal by Ethan today to take a good look at the various Man Zone products on sale. We offer great discounts and amazing deals. So hurry!