The brand C-IN2 Underwear is a relatively new entrant in the market of fashionable and sexy men's underwear, and in a very short time, has made a name for itself and is now recognised as one of the leading brands manufacturing underwear for men. With their underwear basic set, the launch of C-IN2 Underwear was a wildly successful event. With the passage of time, their early designs were reworked and relaunched. They form the staple C-IN2 Underwear range with a variety of styles and cuts of men's underwear. You can choose the C-IN2 Lo No Show brief with Sling underwear from two basic colours- white and black.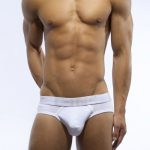 There can be no doubt about the materials used for the crafting of the underwear is amazingly comfortable, as C-IN2 has never been known to compromise on the material and only the finest quality fabrics are used. 100% cotton is used to create the line and fine ribbed texture is woven with it so you get full comfort! The thickness of the fabric is light to medium weight. Despite no use of lycra-like material, the underwear is stretchy enough to give great form fit and good movement.
A low rise waist and fully covered back form the base of this underwear style. Reinforced elastic make the leg bands, which measure at a thickness of ½ inches. This prevents the backside as well as the front pouch from becoming loose so that no unsightly gaps are created. All around the waist, the logo of C-IN2 is repeated for branding. The interior facing in fact has a very smooth finish.
The front pouch of the underwear is snugly fitted. The design is of superior quality and the cut improves the accentuation and lift of the overall package to give an awesome appearance! The sling is an addition to the no show brief, and the enhanced version thus has an elastic sling strap. Large plastic button and elastic makes the fit of the underwear adjustable. The brief is quite comfortable to be worn for a long time.
So, highlight your assets with the fit and modern styling of C-IN2 Lo No Show brief with Sling, and now this underwear comes with a great offer as well on multipacks which contain 3 items! You can avail of the discount only from Deal by Ethan, your favourite online underwear store! Rush now!!