Delio Dietz is a unique and popular brand for people who love to set trends and opt for the stylish and innovative in sexy men's clothing.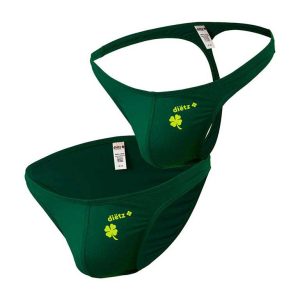 Delio Dietz's tattoo slip swimwear is extremely unique and available with a lining and a drawstring. Using fabric produced mainly from a blend of polyamide and elastane, their underwear collection provides the ultimate in comfort, and their sexy bikini underwear is available in various colors and prints.
Delio Dietz's boxer brief underwear is also extremely comfortable, and the special blend of the fabric lends a nice reflective sheen to the underwear. Their brief underwear is available in peek cut out slip, mesh and slip bikini varieties, while the G-strings and jockstraps are sexy without compromising on quality and comfort. They are made from cotton or viscose, and as a result, they are light, comfortable and stretchy.
The brand's square cut swimwear made from Lycra sports a wet look, and the drawstring and lining add to the level of comfort the swimwear provides. Their thongs are made of the finest nylon and spandex and are cut daringly narrow at the front. They are stretchy, smooth and sexy. Some other Delio Dietz's products include muscle top T-shirts, short sleeved T-shirts and tank top T-shirts.
Want to see it all for yourself? Then visit DealByEthan.com today and browse through the entire Delio Dietz's collection!