Little Boy Blue Design is one of those brands that inspire you like a Picasso painting hung on the stone wall of a Mediterranean villa.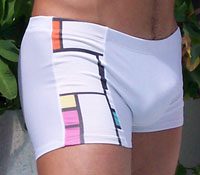 Check out this drop-dead gorgeous Little Boy Blue Design Chad striped square cut swimsuit and see what we mean. You'll feel the inspiration simply flood your senses. How about this stylish and sexy Little Boy Blue Design Billy square cut swimsuit made from white nylon Lycra, a touch of perfection and just a pinch of cheek?
But don`t think that this kind of art and style is without machismo. No sir. Little Boy Blue Design fabrics are chosen with men`s needs in mind. They are comfortable, durable and provide superior ergonomics. Fabrics include high quality Lycra, nylon and high quality cotton. In addition, Little Boy Blue Design garments wrap around your body and perfectly expose your masculinity. They work with every single curve and bulge in a way that perfectly complements your manliness and self confidence. Yes, you can get a large dosage of "me, myself and I" wearing Little Boy Blue Design garments. So if you`re headed for an important meeting, a blind date, secret rendezvous or a hot, passionate night of love, do the right thing and purchase a product from the Little Boy Blue Design range of garments at DealByEthan.com today. You always need an edge in today's fast-paced world, and this is the kind of edge you`ll get addicted to!