Normally, when cotton is grown around the world the amount of pesticides and insecticides used is 10% and 25% respectively (of the total % of pesticides and insecticides used in the entire world). This fact may sound shocking to many, and it not only affects the earth but also the people working on the cotton fields, or those who come into direct contact with them as well. Both the health of our earth and people are affected.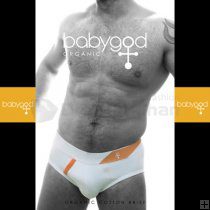 Instead of using pesticides and insecticides, cotton and other products can be grown and that is what we call organic farming. Organic farming is healthier than the usual farming and affects the planet earth in a good way as well. Organic farming helps in the creation of a sustainable environment, which works in the favour of all. Soil becomes more fertile and cotton grown is richer and of better quality. Organic farming is supported by Babygod which uses only organically grown cotton for its products.
The brand Babygod was founded in London by Robert Green and the main motto of this brand is to make the environment a better place to inhabit. In fact, the material of clothing achieves certification from the Control Union. Their clothes are manufactured in several parts of the world. Babygod mainly manufactures two products – short sleeved t shirts and brief underwear. The company also offers multipacks, which help you save money.
The use of organic cotton makes their clothing hypo allergic and friendly for the skin. In fact, the material even makes the clothing anti-smell and you can feel fresh longer despite more humidity. The fit is superb and aimed to highlight the best physical aspects of your body. The colours used are attractive and mainly earthy like browns, blue, orange, white, etc. each article of clothing carries a logo of the brand Babygod.
The t shirts made by Babygod are raglan style and the general use of three colours makes their tees colourful and attractive. The motif of Babygod is printed on the chest of the t shirt.
When you buy Babygod products, you provide benefits to the environment as well as to yourself. On buying products of Babygod from us here at Deal by Ethan, you get a 3% discount on all articles. But wait! There is more! When you buy multipacks of Babygod products you get a flat 5% discount! Exciting isn't it? So, do not wait! Rush to buy Babygod from Deal by Ethan today!