Every man wants his body to look their best and a buffed up body is the best way to do it. But not all are blessed with a chiselled body or go to the gym as regularly. For those people Buffedbod range of apparels is the best option that can be availed of.
The brand is almost 2 years old, and the founder of the company is Ron Serfass, who had also been the designer and original owner of HE SWIMWEAR. His association with the brand HE SWIMWEAR has ended, but not his association with style and the best fit that can be given to an individual. The designer even lends his expertise to the customization of the garments so each customer can look his very best and flaunt his positive attributes to the fullest.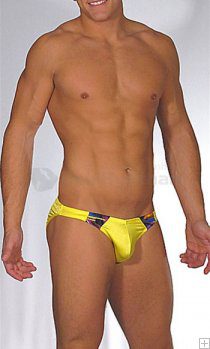 Buffedbod bikini swimwear and underwear is a huge collection in different cuts, textures, prints, colours and materials. You can get their underwear and swimwear in materials like vinyl which adds a sexy shine, nylon, spandex, nylon lycra gauze, etc. You can even get their underwear in sheer styles, which adds to the sexiness quotient.
Their boxer brief underwear is perfection incarnated with its fit and seamlessness. A majority of their underwear is made of a mix of nylon and spandex. Other fabrics used are cotton lycra and a mix of lycra and nylon. You can also get some nice sheer and mesh underwear made by Buffedbod.
The brief underwear made by Buffedbod is available in two main materials – stretchy cotton lycra and a mix of nylon and spandex, which gives it an almost sheer appearance.
There are many varieties regarding the prints and colours of g string underwear and swimwear manufactured by Buffedbod. The waistband is string elastic and the back is fabric thong. The pouch is contour seamed, which adds to the comfort and gives the wearer more room. Another feature is the stretchy and comfortable fabric used.
Even during sports, some men feel the need to wear sexy underwear, which gives protection as well as confidence. Buffedbod jock strap is the perfect answer for them! Their one piece design and contour, and customized front gives the wearer lots of comfort and room.
Buffedbod square cut trunk swimwear helps add colour when you are out at beach or by the poolside due to the vibrant colours and funky prints used.
Buffedbod is a real treasure trove of sexy mens apparel which includes sexy mens underwear. Other products manufactured by the brand includes bodysuits, muscle top t shirts, short sleeved t shirts, shorts, shorts swimwear, tank top t shirts, etc. You can get them from us at Deal by Ethan today!