Indulge in your naughty, playful side with underwear and costumes designed by Candyman, a leader in the world of sexy men's fashion.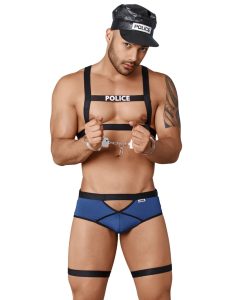 Candyman is a Colombian brand that caters to your wildest fantasies. Apart from their range of underwear, Candyman also produces unique, sexy, taboo-breaking costumes that allow you to indulge absolutely any secret fantasy you might have.
Try a little role playing to spice things up in the bedroom with the Candyman Knockout Nurse or Heartbreak Clown costumes. Or why not try the hot Take Me In Prisoner or the funky, red and yellow Fire Me Up costumes? If you like to be the one giving the orders, maybe the sexy Air Force Marchal Outfit in black and gold is more your style. The vast variety of styles and themes allows your imagination to simply run wild!
Candyman's range of underwear is also unique, sexy and stylish. The Candyman camouflage Thong Underwear is truly inventive, and it certainly lives up to its name. Revealing just enough to make a provocative statement, it breaks all the moulds of convention, while the Candyman Zippers Brief underwear is truly a work of art with its zippers on both the front and the back.
Such unique concepts have made Candyman a well known brand name in the sexy men's fashion industry, but they do not compromise on quality, and all the brand's garments are manufactured using the highest quality fabrics. The company's philosophy is to produce men's underwear that will spice up your love life so much so that you'll discover things about yourself you weren't even aware of before!
So, don't just read about it. Browse through the entire Candyman collection at DealByEthan.com today and decide for yourself!