Created by ace designer Luis Mentado, XTG (Extreme Game) menswear is essentially from Spain. The brand was incepted with one simple motto, and that was to provide men with the perfect and right kind of masculine features, the perfect underwear, swimwear and loungewear that they always crave for. The brand offers great designs in some of the most vivid and exciting colors, patterns and prints. In fact, if you are the kind of person who is extremely fond of tattoos and likes a lot of adult comics, then XTG that has to be your choice for sure!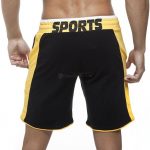 XTG has the capacity to design crazy and daring designs, spectacular cuts and bold patterns. It allows men to develop a taste for innovative and exotic looking menswear. Men who have a great body and believe in donning modern and dynamics cuts and patterns will fall in love with XTG range of underwear. The brand is so captivating that the wearer would continue to be loyal to the XTG and wouldn't feel like wearing anything apart from XTG underwear.
The brand does not believe in offering known and tried and tested cuts and prints. It believes in inspiring men and in doing so it creates exceptionally comfortable and exotic looking underwear for men. Those who have a penchant for unusual and funky underwear must try XTG at least once, and they will definitely admire the brand for its sheer quality and style.
XTG also offers Armbands, Bags, Bikini Swimwear, Boardshorts Beachwear, Boxer Brief Underwear, Brief Underwear, Hats, Long Sleeved T Shirts, Long Underwear Pants, Loose Boxer Shorts Underwear, Muscle Top T Shirts, Pants, Short Sleeved Shirts, Shorts, Shorts Swimwear, Square Cut Trunk Swimwear, Sweaters+Cardigans, Tank Top T Shirts and even towels. No matter what you are looking for, XTG has all in store for you.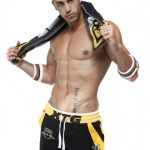 The product being discussed here is the XTG Extreme Game TRAINING Long Shorts. Made from 100% cotton, this is extremely popular menswear for those wearers who are fond of the covered look. The wearer can easily slip into it, and head for a walk in the park or to the beach. These shorts stretch till the wearer's knees, and are extremely cool and casual.  They also provide great deal of support, room and comfort for the wearer.
You can place order for XTG Extreme Game TRAINING Long Shorts and other brands of underwear at our portal DealByEthan! Hurry! Grab exciting offers and discounts!!