N2N Bodywear was incepted in the year 1997 in Los Angeles by one of the leading men's fashion designers, Andrew Makay and the brand has since then been loved by one and all. The unique thing about Makay's designs is that they are exceptional and great in every sense. Whether it is N2N Bodywear swimwear or underwear, men with a taste for lavish and comfortable designs will fall in love with their designs instantly. Thanks to Makay's vision, the gay fraternity and metrosexual personalities have witnessed an apparel revolution of sorts. However, Makay's designs are not meant only for the homosexual, even straight men can find innumerable designs, cuts and patterns for themselves.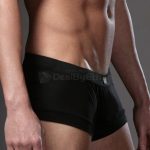 N2N has the power to make everyone feel special! The brand has been introducing designs that embraces the male physique and then transports him to a new world of sex appeal. The brand has been launched with a simple motto and that is to offer comfortable and superior quality apparel that will enhance masculine physique further.
They offer a variety of styles and patterns including, long-leg boxer briefs, g-strings and thong underwear. N2N designs offer a lot of comfort and style. They can be stretched easily and fit perfectly well. The waistband for every pattern is unique and made of elastic, which is both stretchable and durable at the same time.
N2N has a fetish for offering daring, bold and hot designs for men and they have always managed to impress men from different walks of life with all their cuts and patterns. The brand pays a lot of heed to the pouch style and gives men the perfect opportunity to slip into underwear that has unique and sexy looking pouches, which are also very comfortable and breathable at the same time.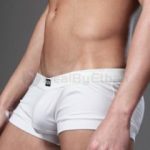 Men who wish to don the enhanced pouch look can don the N2N Bodywear Cotton Boxster Underwear. It is sexy, erotic and irresistible and it is every man's secret dream. It gives men much required freedom of movement and features a sexy and hot pouch design, which is perfect for slipping into the enhanced pouch look. It is crafted from N2N's signature, stretchy and thin material, which is essentially a mix of cotton and spandex. It is lightweight and is made from a mix of 90% cotton and 10% spandex. It features a seamless front pouch and is an absolute delight.
You can order for N2N Bodywear range of men's underwear and also find other brands from DealByEthan! Visit our site for exciting discounts and offers today!!