Blue Line has been introduced by one of the leading lingerie designing companies – Electric Lingerie. The brand is renowned for offering a wide variety of underwear styles including thongs, jockstraps, trunks, boxer briefs, bikini underwear and brief underwear. Blue Line uses soft Mesh or Microfiber to create unimaginable designs. So, if you want to take a closer look at some of the most incredible looking underwear, then keep an eye on the Blue Line range of menswear.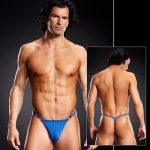 Apart from designing a sexy and fabulous looking underwear range, the brand also manufactures Short Sleeved T Shirts and Tank Top T Shirts for men. No matter what style or pattern you are keen to wear, Blue Line will definitely have something or the other for every kind of wearer. Whether you want sexy looking underwear or cool and funky t-shirts, go through the Blue Line range of menswear which looks great and is really affordable.
The Blue Line full pouch micro-fiber lace-up boyshort is one of their most popular products. Available in three different colours – navy, white and black, this underwear offers great fit and is made from fabric that allows the wearer to stretch it easily. Their tank top range is simply breathtaking and is admired by men who love to dress up differently for different occasions. The brand focuses in creating unique designs by simply using fabric and combining colours and patterns that have never before been tried and tested by anyone.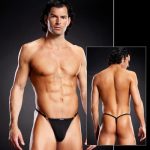 Those who are not very familiar with the brand can opt for the Blue Line Performance Microfiber T Back Thong Underwear that is available in Royal Blue. This particular thong features a T-back and is super sexy, silky and comfortable at the same time. Those who are fond of flaunting their back will definitely appreciate this T-back style. It is made of microfiber that gives the thong its smooth and soft feel. It also comes with a special front pouch that allows the wearer to enhance their package exactly the way they desire. The thong offers a great fit and will basically conform to the shape of your body. It is made of fabric that lasts really long and is easily stretchable. So, if you feel that you need to include new designs in your closet, then it's the right time to give this thong a try. After all, you don't want to wear normal boring patterns every day?
You can grab Blue Line Performance Microfiber T Back Thong Underwear at our website DealByEthan which provides exciting offers and discounts!