Now men have a lot of options when it comes to choosing their swimwear. Earlier, mere boxer type shorts  were the only swimwear that were worn then which neither had style or durality.S By Slot Bodygear presents their new Cowboy Low Rise Bikini swimwear which has a unique cut and pattern. You spend hours carving out a well-toned body. You don't want to spoil your looks in some cheap swimwear. So, don't wait and watch – get your low rise bikini swimwear!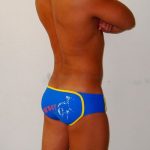 S By Slot Bodygear understands your priorities. Their low rise bikini is uniquely shaped to give your body proper balance when you are busy in the water. It is made up of nylon (95%) and spandex (5%) which ensures perfect fit and elasticity. Even when you are in the midst of turbulent waves, the bikini will adhere to your body. So, flaunt your sculpted body without any fear. A swimwear should have proper elasticity at the waist area. S By Slot Bodygear's low rise bikini swimwear is designed in a particular manner that ensures tightness at the waist.
This particular swimwear is available in two attractive shades – blue and orange. The colours are ideal to wear on the beach where the reddish yellow rays of the sun will mingle with the greenish blue colour of the sea, producing a montage of various shades. Thus, when you walk around in this swimwear you too will produce a mesmerising effect on others. This swimwear comes with a unique yellow piping at the back and front. The posterior is labelled with the brand name cowboy and has white patterns. This has also increased the popularity of the swimwear.Apart from low rise bikini swimwear; S By Slot Bodygear produces trunk swimwear, tank tops, T shirts and many other products.
Low rise bikini swimwear gained popularity in the 60's and from then has been one of the most coveted swimwear items. During a holiday when you have fun, don't forget to be the one to stand out! Improve your image on the beach in S By Slot Bodygear Cowboy Low Rise Bikini swimwear.
You can grab this swimwear at our website DealByEthan which presents a variety of mens apparel!