Do you want to look inviting? Do you want amorous eyes to feast on you? Candyman's G String Underwear should be the one for you. The alluring designs and exclusive colors make G String one of the most popular items now days. The designs of underwear have undergone a rapid change in the last few years. Designers have always been thinking about bringing out certain designs that can change the mind set of people. G string Underwear was launched with the sole intention to alter the looks of metro sexual man giving him hypnotic powers.
G string Underwear is specially meant for those men can dare to bring a change. The low-cut stringed design is specially made to make you look hot and happening. You emerge as symbol of desire- steamy and lustful. Candyman makes you the hunk coveted by all! Candyman Suspenders G String Underwear is one product that has simply become the most desired item among men. The presence of two suspenders that adorn the shoulders is the specialty of this product. The suspenders provide maximum support and help you in becoming a style icon. The underwear is designed in a manner that it gives support only to the essential parts required and the strings enhance your sizzling looks.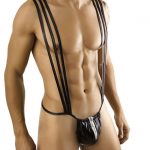 This G string Underwear is available in the ravishing color black- just the one you need to steamy! The color enhances your looks and your virile image. This underwear is available in four different sizes small, medium, large and extra large. So now everyone can grab this product. Apart from G strings Candyman also produces boxer briefs, briefs, thongs and other seductive costumes. The perfect fit and the unique designs are the one that makes the costumes most appealing. So men who really want to flaunt their well- sculpted bodies just get hold of Candyman's G String Underwear.
Today's men want to add some spice to life. They don't want to be a part of the boring monotonous fashion that marks them as "typical" men. They want to break through the paths of conservatism and get something different that will enhance their manhood. They no longer want to abide by the strict rules of the society but want to break the rules and live a carefree. They want to be passionate, comfort-loving as well as stylish. Candyman Suspenders G String Underwear is just meant for those men who want to be different!
You can grab this product at our website DealByEthan which offers a wide variety of mens apparel!