You see men wearing sexy G-strings in magazines and on adult sites, and you wish you were brave enough to do the same. Well, it's time to gather up that courage. If you want to have that to-die-for look and impress your partner, there's no better way to do it than by wearing a Twink Solid G-string from DealbyEthan.com.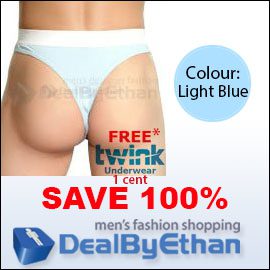 There is currently a trend towards G-strings over conventional underwear such as briefs and boxers. The reason for this is partly advertising and partly the fact that men are bolder these days when it comes to their underwear.
G-strings were worn by men and considered a necessity long before conventional underwear came on the scene. Cultural changes ultimately saw them wane, but they are now back with a vengeance. Today, they may not be exactly considered a "necessity", but they are regarded as hip, bold and sexy, which makes them highly popular, and that popularity grows by the day.
So, after a short lull, men are once again recognizing the value of G-strings. They are preferred by men who want to look sexy and feel comfortable in style, and they are flocking to purchase them here at DealbyEthan.com where we are now offering Twink Solid G-strings for FREE! Yep – you read it right. FREE! So, don't wait a second longer. Take advantage of this amazing offer today while supplies last!