Men who have developed a fetish for sexy and unusual looking underwear will definitely admire Dirty Fukker brand of underwear. The brand offers a range of underwear designs including trunks, bikinis, jocks and G-strings that are exceptional and of the highest quality. Dirty Fukker underwear is not only capable of complementing a man's physique but is very soft and comfortable at the same time. So, all those of you who wish to own meticulous designs, when it comes to underwear, will simply adore Dirty Fukker for their designs are sexy, hot and trendy!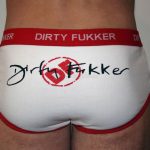 Dirty Fukker underwear offers a snug athletic fit that fits the wearer's back and front perfectly well. The brand is well renowned for shaping boxers, jocks and briefs in such a way that the wearer looks super hot and great in them. Dirty Fukker Jocks come with a wide strap that offers the much required style and support one seeks in underwear. On the other hand, their boxers and briefs are capable of accentuating their back and front.
Dirty Fukker offers modern, sleek and great looking underwear so that you get to look different. The brand offers sexy patterns and designs in attractive colors such as white, blue, red and yellow. Almost every pattern introduced by the brand is dynamic and eye-catching in every sense. The waistband used for designing the entire underwear range is made from the highest quality material and it is never too tight around the wearer's waist.  Dirty Fukker is extremely stylish and you sure won't feel awkward in it.
The product being discussed here is the Dirty Fukker Logo Print Brief Underwear. This great looking underwear is meant for those who are fond of donning printed underwear. This is in no way a mundane product and is meant for men who love to experiment with crazy patterns and out of the box designs. What differentiates this particular underwear from others is its unique print and design. It comes with contrast piping trims and also features a printed logo at the back. Even the waistband of this underwear has a logo on it. The underwear is carved out of the highest quality fabric, which is essentially a mix of 92% Combed Cotton and 8% Lycra. Available in different sizes, this underwear comes in three different colors including Black, Blue and Red.
You can find innumerable designs in mens underwear at online portals such as DealByEthan.com. Hurry! Visit the website to place your orders today!