It is easy to be conventional, but it takes a lot to move away from traditional apparel and try something different. Looking at the Mosmann Sports Trunk Running Shorts, you can easily see how different they are. Although, shorts made their entry as a popular menswear for casual purposes, designers for a long time hardly looked at them as a suitable item to be experimented. New ideas evolved with the passage of time and nowadays, we find many ace designers actually experimenting with the designs of shorts trying to make them trendier. Mosmann Sports Trunk Running Shorts can be cited as a suitable example.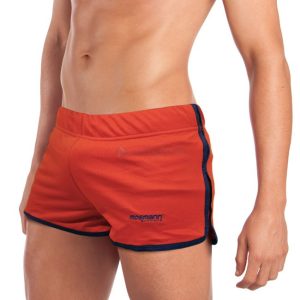 Mosmann Sports Trunk Running Shorts are made from pure polyester. Polyester is quite light in weight, making this outfit suitable for running or jogging purposes. Moreover, polyester ensures stretchability and tightness. Therefore, these shorts perfectly adhere to the body during fitness sessions. Unlike traditional shorts that were unnecessarily loose and plain looking, these shorts have a somewhat short length, making you look sexy and stylish. The red coloured fabric contrasted with the black piping makes these shorts look simply fabulous. The presence of the brand name on the shorts is even more eye-catching. Apart from red, you can get these shorts in black, green and navy colours.
Mosmann is among those few brands that actually dared to move away from the typical traditional designers. Started by four designer friends, Mosmann is Australia's one of the leading brands manufacturing men's underwear and other outfits. With premium fabric, this brand designs men's apparel that are really appealing and stylish. Presently, the brand has gained immense popularity in other parts of the world like U.K, Germany, Japan, Brazil, France, U.S and China. This brand produces some chic of menswear like boxer brief underwear, brief underwear,shorts, etc.
You can buy a pair of Mosmann Sports Trunk Running Shorts or any other stylish menswear at our website DealByEthan. Our website offers nice discounts on different fashionable mens apparel as well.