South African brand Mundo Unico has created quite a sensation in the mens underwear industry and rightly so, as the brand focuses on designing comfortable and sexy looking underwear. Mundo Unico's range of underwear includes briefs, bikini underwear, Jock Strap Underwear, Long Boxer Brief Underwear, thongs, boxer briefs and sheer style underwear. The brand was incepted with a mission to offer nothing but the best to men.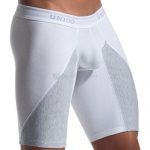 They lay a lot of emphasis on the fit and construction of the underwear that allows men to slip into extraordinary and sexy looking underwear. Aside from a wide range of underwear, Mundo Unico collection of apparel also includes, Bikini Swimwear, Boardshorts Beachwear, Bodysuits, Long Sleeved T Shirts, Short Sleeved T Shirts and Tank Top T Shirts among others. In a Mundo Unico swimwear or underwear, you would simply look sensual, passionate and wild.
The thing with Mundo Unico is that they know how to make men feel special and in their bid to give the wearer a cocky and aggressive feeling, they have been introducing one after another design and pattern that has left fashion experts, ace designers and of course thousands of wearers, speechless. The wearer can either choose to don a Mundo Unico swimwear and go for a stroll by the beachside to leave onlookers guessing and feeling envious of him or he can spend special moment with his girlfriend or wife and seduce her on bed in sexy looking Mundo Unico range of underwear. The product being discussed here though is meant for men are consciously looking for something that is not revealing and comfortable at the same time.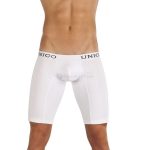 Men who are on the lookout for long boxer briefs can consider purchasing Mundo Unico Long Boxer Brief Suspensor for themselves. Crafted from high quality fabric, which is a mix of 62% Cotton, 31% Polyester and 7% Lycra, this particular underwear comes with a elastic waistband that has the brand's logo carefully woven on it. The cotton used for designing this particular piece weighs no more than 233 grams and is extremely soft as well as flexible. It also features a 'suspensor' that goes a long way in ensuring that the wearer's private parts do not get affected once he has chosen to don the underwear. Thanks to the design of the suspensors, the wearer's package also appears enhanced.
You can place your order for a wide range of Mundo Unico underwear on our site DealbyEthan to avail great discounts and offers!