It is true that shorts swimwear is designed for providing maximum comfort and ease, so you invariably select it for swimming, other water sports or beach parties. Now, if you are conscious about the changing trends in fashion, you will obviously want to upgrade your outdated shorts swimwear. You will always be on the lookout for that one product which will help to enhance your ravishing looks and ensure a snug fit.
LA Sporting Club or LASC is a well-known brand from the United States that can meet these requirements. Choosing the finest fabrics, this brand designs some exclusive menswear that quickly finds its way into men's wardrobes, especially those men who are fed with the same old designs and boring colour combinations. This brand creates a wide variety of fashionable men's outfits like bikini swimwear, square cut trunk swimwear, shorts swimwear, boardshorts beachwear, shorts, boxer brief underwear, brief underwear, short sleeved shirts, short sleeved t shirts, tank top t shirts, pants, etc.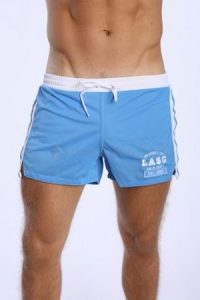 If you cast a fleeting glance at LA Sporting Club Pool Guard Shorts Swimwear, you will know why it is so popular among men. It is crafted from pure nylon that has a quick drying quality. Nylon is quite light in weight, perfect for creating shorts swimwear. This shorts swimwear has an interior lining, which helps in keeping the wearer comfortable during swimming or surfing. It has a drawstring that allows you to adjust this swimwear according to your needs. A considerably broad waist strap provides added support. The presence of the brand name on the front of this shorts swimwear is quite appealing. You can get LA Sporting Club Pool Guard Shorts Swimwear in a wide range of colours like red, olive, royal, navy, sky and white. So, choose your favourite colour and grab your shorts swimwear now!
Buy LA Sporting Club Pool Guard Shorts Swimwear at our website DealByEthan today, which offers good discounts on various fashionable and modish menswear!