You no longer have to settle for old fashioned swimmer trunks when indulging in swimming or other aquatic sports. Craig Port is here to make you look quite chic and sizzling in their Craig Port Navy Stripe Trunk Swimwear. This swimwear has been designed to ensure a perfect fit and tightly adheres to the body, enhancing your manly, well toned physique. It is neither too long nor too short but just the right size to make you look stylish and different on the beach.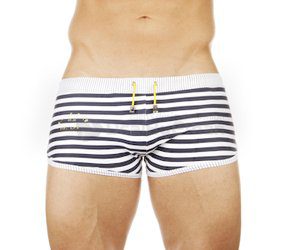 The fabric that is required for creating this swimwear consists of nylon (81%) and elastane (19%). The presence of these two materials ensures that this trunk swimwear remains tight and stretchable, enabling free movement of the legs during rough water sports. It is provided with a drawstring that allows you to adjust this swimwear according to your needs and requirements. One of the most eye-catching features of this trunk swimwear is its navy stripes, contrasted on a light background. This makes you even more appealing and attractive.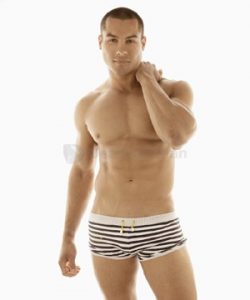 Any man who sets his eyes on Craig Port products, like bikini swimwear, square cut trunk swimwear, boxer brief underwear and brief underwear will crave them instantly! Crafted from the finest fabrics, Craig Port products are made to suit your manly body. The credit obviously goes to ace designer Craig Port who creates some very stylish and modish menswear. Based in Cape Town, designer Craig Port has now made his brand quite popular among men worldwide. In fact, he is regarded as one of the eminent figures in the South African fashion world. A fashionable man yearns to have a Craig Port product in his wardrobe.
Are you eager to get some Craig Port Navy Stripe Trunk Swimwear or other Craig Port products? Well, visit our website DealByEthan today! Our site offers nice discounts on various men's underwear, swimwear, loungewear and other mens apparel.