If you keep yourself updated with the changing styles and fashion, you will never be satisfied with older outdated designs. You will want to change your wardrobe frequently, stuffing it with all the latest designer outfits produced by well known brands this season. Even while choosing your underwear, you will want to pick the latest and trendy designs available in the market. Although boxer briefs came back into vogue a long time back, fashion designers have made them trendier and sexier, catering to the demands of men everywhere. So, when you pick your boxer brief underwear, you invariably select something that is excessively chic and enhances your manly image.
When you decide the get the most stylish boxer brief underwear, you may come across numerous brands creating some trendy and stylish boxers. However, one brand that takes care of your style as well as your comfort is Alick Alexander. Incepted in 2007, Alick Alexander is a popular brand creating stylish menswear. As far as men's underwear is concerned, this brand believes in creating some exclusive and innovative designs that are immensely popular among men. Although it is based in the UK, Alick Alexander is now popular all over the world. Besides boxer brief underwear, this brand also designs some trendy brief underwear.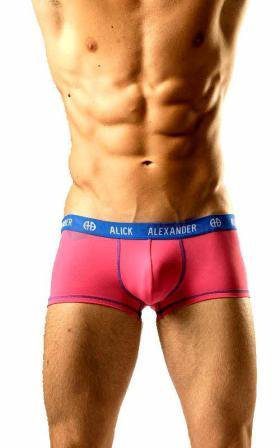 If you check out Alick Alexander Pro Trunk Underwear, you can see why it is different from other ordinary boxer brief underwear. Unlike ordinary boxers that are available in typical colours like black, blue, brown or white, this trunk underwear is available in vibrant colours like pink, turquoise, red, yellow, and of course, royal blue and white. It is designed with a roomy pouch that is double layered, and gives maximum support and enhancement to your package. It is provided with a considerably broad waist strap with the brand name labelled on it – great if you like wearing low rise jeans or trousers.
Alick Alexander chooses the finest fabrics for creating its men's underwear, so the wearer remains comfortable throughout the day. The fabrics used in creating Alick Alexander Pro Trunk Underwear consist of polyamide (88%) and elastane (12%). Due to the presence of these materials, the underwear retains its stretchability and tightly adheres to your body, enhancing your curves and looks. Available in different sizes, Alick Alexander Pro Trunk Underwear can be a perfect replacement for your old boxers.
You can grab Alick Alexander Pro Trunk Underwear at our website DealByEthan. Our site offers great discounts on different men's underwear, men's loungewear, swimwear and other men's apparel.