Tulio understands that today men have become more demanding, educated and choosy and are always on the lookout for that perfect pair, which is why the brand is leaving no stone unturned in designing patterns that will impress men with different tastes and styles impressed at the very instance they pick any of their designs or patterns. Made in Brazil, Tulio swimwear range is exceptional and stylish in every sense. Tulio offers body-hugging fits and perfect styles that allow men to uplift their assets and mover around freely at the same time.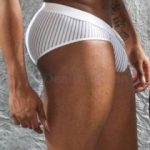 The goal of Tulio is simple. The brand is here to impress men and highlight their hot physique and bodies. They design seductive swimwear range that is unique, colorful and vibrant all at the same time! Anyone who sees Tulio even once will remember the brand always, no matter where he goes. Aside from their swimwear range, the brand also offers G String Underwear, Jock Strap Underwear, Muscle Top T Shirts, Pants & Jeans, Shorts, Square Cut Trunk Swimwear, Tank Top T Shirts and Thong Underwear.
Tulio Mesh Power Pouch Brief underwear became an instant hit, when it was launched. This particular design is sexy, hot and stylish and enhances the male package perfectly well. Made from sheer mesh fabric, this particular underwear comes with a waistband, which is stretches easily and imparts a unique look and style to the underwear. It features an enhanced front contour pouch and is absolutely irresistible. The brief sports a small black colored tag that bears the signature Tulio logo on the left side. It is made from a mix of 85% polyamide and 15% elastane and is very comfortable to wear. The contour pouch comes with a centre seam, however its back features exposed and full coverage along with a centre seam.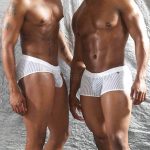 In 2008, Tulio had introduced the "power pouch" line that included a range of swimwear and underwear in brief, jockstrap and trunk cuts. From that moment on, Tulio has been appreciated even more for its amazing designs and innovative cuts by ace designers and wearers with different needs and requirements.
The product being discussed here is Tulio Sheer Stripe Bikini swimwear. It is extremely sexy and comfortable, and can make the wearer look really hot and adorable. It features sheer stripes and is made from a mix of 85% Nylon and 15% Spandex. Tulio swimsuits will please the weareras it offers the perfect fit.
You can find Tulio range of products at DealByEthan! Visit our website to find exciting offers and discounts today!!