Doreanse brand of underwear is capable of satisfy any and every kind of wearer. Ever since the brand was first introduced, it has created unfathomable designs and left an indelible impression over thousands of wearer, fashion experts and the entire men's fashion industry. Doreanse is manufactured in Turkey, and the brand's only motto is to provide men with comfortable, affordable and durable underwear.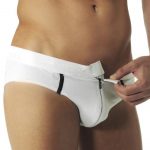 The brands true potential lies in the fact that they can use the latest technology to produce designs that are diverse and extensive and above all appealing. Doreanse brand of underwear is for men who are not shy of slipping into bold and electrifying cuts and patterns. Doreanse is magical and overpowering and the wearer will definitely attract the attention of onlookers, no matter where he goes. The brand is exceptional in the sense that it does that extra bit, which other brands simply are unable to do. The brand is appealing and the wearer can pick different patterns ranging from sexy, hot, daring, practical and classic. Doreanse collection of underwear include a range of underwear including, String Boxer Brief, Zip Slip Brief, String Boxer Brief, Sporty Boxer Brief, thong and Zip Slip Brief among others.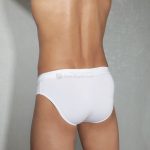 The Doreanse String Boxer Brief features cut out panels that are very narrow and can help the wearer don the sexy and bold look. The Sporty Boxer Brief is an absolute delight and extremely comfortable. The Zip Slip Brief from Doreanse is class apart and can make a male who has the right kind of physique look hot than what he may have ever imagined and visualized. Doreanse also gives a lot of importance to the waistband styles. Different waistband styles have been used for different patterns and Doreanse also sees to it that they are using the highest quality elastic so that the wearer does not develop itchy or tight feeling at all.
The product being discussed here is the Doreanse zip front brief underwear. It features side stripes that are contrast in color. These stripes have been placed immediately next to the underwear pouch. Made from a mix of fabric, which is a mix of 90% Modal as well as Cotton and also includes about 10% Elastane this unique looking underwear is both comfortable and sexy.
You can place your order for a wide range of Doreanse underwear on our site DealbyEthan to avail great discounts and offers!