When you look at the Zelus range of underwear for men, you will feel like jumping with joy. And we completely understand why! It is simply because the brand has anything and everything men can think of. If you desire for lavish, luxurious and bold styles or even if your tastes are funky, cool and casual, Zelus can certainly help you!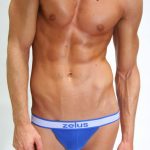 Zelus understands that men are very particular about every type of apparel that they slip into. The brand focuses on combining style and pleasure to create exciting cuts and patterns that are truly magical and different. Men don't believe in getting into just any kind of apparel and rather focus on factors such as support, fabric quality, comfort quotient and style aside to color when it comes to selecting underwear.
Zelus embraces elegant styles and is meant for men who love sophisticated and fashionable clothes. Zelus offers a diverse range of products that include the traditional Brief style underwear, Hi Cut Brief underwear, Boxer Briefs, and Boxer underwear. All their designs aim at providing ultimate comfort to men. The brand uses a variety of colors to ensure men get all the opportunity to experiment with different color combinations and styles all at the same time.
The brand has been incepted with the sole intention of offering men, truly unique, high quality and great looking underwear. It helps you explore your masculine side better and gives you the perfect scope to enhance your body and masculine features. It helps the wearer redefine his lifestyle and offers him quite a few exotic looking underwear styles that are difficult to find.
Zelus brand of underwear for men focuses on providing men with durable and comfortable apparel. They understand that when men purchase underwear they do not want to compromise on the quality and purchase stuff that would wear and tear only after a few washes. That is why Zelus underwear does not lose its sheen nor its quality and colour even after repeated washes.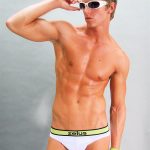 The Zelus Hi Cut Brief Underwear, available in a white and blue colour combination, is definitely one of the finest creations of the brand. It is made of fabric, which is basically a mix of 93% Cotton and 7% Lycra. It is very attractive and offers complete freedom of movement aside to providing the wearer the enhanced pouch look.
You can find Zelus Hi Cut Brief Underwear on our website DealByEthan! Hurry! Visit the webpage and grab some great offers and discounts on a wide range of underwear for men!