Today's fashion conscious men do not believe in making any compromise with their apparel. Even while choosing underwear they consider comfort, durability, style as well as affordability. The outer apparel which does not fulfill these criteria is often rejected. Now a day a variety of underwear designs are available for selection. Among the wide variety, boxer brief underwear has emerged as the most popular variety. Latest boxer briefs not only enable free movement of the legs but helps in retaining the curves of the body.  So if you have chiseled physique is proud to flaunt it!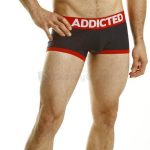 Addicted, a brand from Barcelona, Spain deals with various mens apparel. Apart from boxer brief underwear, the brand also specializes in jock strap underwear, shorts, swimwear and sports apparel. The brand was launched with the sole intention of catering to the needs of the new generation of men who believe in enhancing their sex appeal under all circumstances. It is for those men who no longer find the underwear an apparel to be worn below the pants but an asset that enhance the personality and thereby to be displayed proudly.
This particular boxer brief underwear has a unique low cut design made keeping in mind the latest trends. The fabric is of very superior quality made of cotton (95%) and elastane (5%). Cotton helps in air circulation and being skin friendly avoids allergy. The presence of elastane retains the elasticity of the underwear making it durable. The most interesting part of this underwear is the patterned strap with the brand name labeled on it which makes it most unique. The waist strap is quite broad which can be displayed from below the pants. So now be a brand freak!  The Spanish brand Addicted makes sure that its underwear properly adheres to the body making it curvaceous.  Therefore a lot of effort goes in designing and manufacturing the apparel. Addicted Classic Boxer Brief Underwear is available in the ravishing combination of black and red. The base color is black whereas waist strap and the borders on the legs are red. This increases the killer effect of the boxer brief underwear.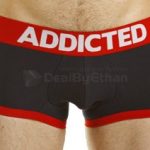 Boxer Brief underwear made its entry into mens domain and immediately became the most favorable item. It's mainly because of its all purpose utility. It could be worn during sports, casual purpose or even displayed from below the outer apparel. In everyway boxer brief underwear simply magnify your manly image.
You can procure this underwear at our website DealByEthan which offers good discounts on mens clothings, underwear , swimwear and other accessories!