Boxer brief underwear, when it was first introduced, became one of the most popular items among men. This underwear is designed in such a manner that it helps in retaining the wiry and sensuous look of the body, and at the same time provides utmost comfort. Nowadays, boxer brief underwear has come up with innovative designs and patterns, thereby becoming a more accepted item. Different brands are competing with each other to introduce the most stylish and spunky designs as they are in demand today.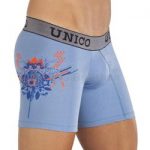 However, Mundo Unico products are different, as they not only abide by the latest trends but also take care of the comfort of the wearer. Mundo Unico, a brand from Colombia, has its own secrets when it comes to designing its products. The brand not only believes in retaining your sex appeal but adding something extra to it. Thus, your looks get completely altered and you find a new man is born inside you.
Their boxer brief underwear has been specially designed, which makes you shapely and reveals the curves of your muscles. So, now don't be disheartened for not being able to display your chiseled body. With Mundo Unico Canguro 10'' Boxer Brief Underwear on you can flaunt your body! This particular boxer brief underwear boxer brief underwear is made up of cotton (93%) and spandex (7%). Cotton is totally skin friendly, thus provides utmost comfort. Moreover, being a skin friendly material it reduces chances of allergies and other skin infections. Spandex, on the other hand, helps in providing elasticity to the underwear, thus making it more durable. The underwear is also provided with a broad waistband with the brand name labeled on it. So now don't be in a rush to hide your underwear waistband below your pants! This brand is famous for its exclusive designs.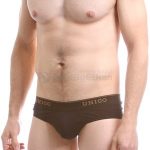 Mundo Unico Canguro 10'' Boxer Brief Underwear is available is a different shade of blue with a pattern on the side. In fact, this pattern marks it different from any other underwear. Apart from Boxer brief underwear Unico also focuses on traditional brief underwear, long leg boxer brief underwear, bikini swimwear, bodysuits etc. Ever since boxer brief underwear made its entry into this domain, it has been the most coveted innerwear product among men. You can now grab this brand at our website DealByEthan which offers a wide variety of mens apparel!