If you wish to follow underwear brands that are trusted by the likes of Kate Moss, Diane Kruger and other celebrities, then you got to take a look at the Sauvage brand of swimwear and underwear for men. Australia based Sauvage has been making a conscious effort to provide men with some of the most dynamic and creative line of swimwear and underwear. The brand focuses on the latest and recent trends to design fashionable and comfortable apparel for men.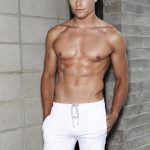 The brand was incepted by chief designer Elizabeth Southwood who also happens to be the owner of the brand. If you have a taste for erotic, sensual and hot apparel, you will find Sauvage very exciting. The brand has forced the fashion experts to turn their heads every time it announced its collection, and in turn even ace designers have praised the brand for the sheer quality, sense of style and sensuousness that they have managed to extend through their unique collections time and again.
Southwood uses some of the most exotic and vibrant colours with bold and innovative graphic prints in order to create innovative apparel. To say that her collection is good is grossly underrating her creativity and capabilities. Every product designed by her is truly magnificent and a class apart.
Apart from swimwear and underwear, Sauvage is also renowned for its other products that include apparel such as long sleeved and short sleeved T-shirts and trousers. Their bikini swimwear for men is crafted from fabric of the highest quality, which is essentially a blend of Lycra and nylon. On the other hand, the boardshorts beachwear range as well as the boxer shorts underwear style offered by them is colourful and really modest. These styles are perfect for men who like it more covered and do not enjoy revealing much of their body. Many of their swimwear products consist of shorts swimwear styles that are made using Italian micro fiber, Lycra and nylon. This particular swimwear range features a mesh liner as well as side pockets and is available in striking stripes, mono colours, checks and many other prints.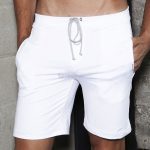 Sauvage Athletic Midlength Shorts Swimwear, available in white, is one of the finest products being offered by the brand today. These are made of 88% Nylon and 12% Lycra and are great workout shorts.
You can place order for the Sauvage Athletic Midlength Shorts Swimwear at our website DealByEthan that offers exciting discounts on a range of menswear!