If you want to have fun, fun, and pure fun then look no further than Black Level underwear! The main material used for producing the underwear is PVC which is great to provide sexiness and mystery to the apparel worn. Eroticism and sexiness get a new name and definition with Black Level underwear.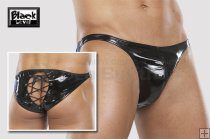 The main segment that Black Level underwear caters to is women. However, men's underwear is not left too far behind as well! You will be left amazed at the huge range of items and products on offer. The items on offer by Black Level underwear includes bodysuits, bikini underwear, boxer brief underwear, g string underwear, costumes, long sleeved shirts, jock strap underwear, tank top t shirts, muscle top t shirts, thong underwear, etc.
The bikini underwear designed by Black Level underwear is one of a kind! The front may seem just like any ordinary bikini style underwear, but turning around will make you realise otherwise! The rear is filled with lace and is cut-out. The colour black adds some extra spice to the outfit. The material used is a mix of 15% spandex and 85% polyamide.
The bodysuits made by Black Level are available in a range of styles and cuts. Two kinds of materials are used to create the unique look of the bodysuits of Black Level- lace, mesh and PVC. The material comes with a polyurethane coating. The bodysuits are available in two colours- black and white. The location of transparent power net or mesh differs according to the style. Some have a zipper in the front which makes it easy to wear and get out of. It is extremely elastic.
The boxer brief underwear of Black Level is also available in a range of unique and wonderful styles and cuts that is sure to appeal to all. Some of them are combined with powernet and lace and have a zipper in the front. The material used is unique in the combination of a variety of fabrics like 10% spandex, 15% polyurethane, 10% elasthan, 30% polyester and 45% polyamide.
Black Level also manufactures g string which has a detachable or snap front and the string used as the waistband is stretchy and comfortable.
Visit us at Deal by Ethan today to take a look at the huge range of costumes, bodysuits and men's underwear by Black Level! You will be getting a 3% off on all Black Level underwear! Hurry!!