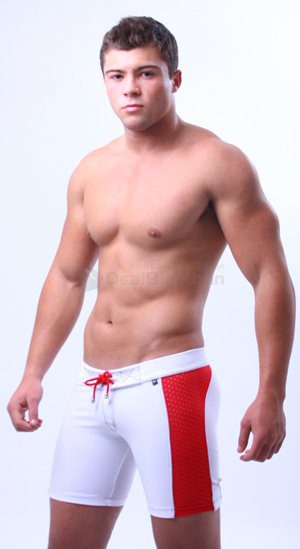 Men swimsuits are now available in different styles and colors. Unlike women swimwear which mainly consists of bikini, thongs etc men swimsuits comes in variety of styles like Trunks, Jammers, Board shorts, Thongs, Racers, Boxer Shorts, Speedo style briefs etc. There are numerous brands and styles of swimsuits available in the market and the choice lies in the hands of the men who are going to wear them. Men usually go for simple designs and basic colors but with the change in the fashion trends and apparel industry, swimwears too have gone under a transformation. Now men can choose from the various designs, styles and colors while choosing the swimsuit.
Men jammers Swimwear is usually the best choice or option for athletes and swimmers. They are tight fitting and smooth and offer very good support in competitions and races. They cover the men from mid waist till above the knees. They are similar to the cycling shorts used by cyclists and racers in appearance. They are usually made of fabrics like Lycra, nylon, spandex to offer elasticity and fit and also water resistant. Certain men jammers swimsuit is designed in a particular fashion so that it offers more buoyancy to the swimmer and also helps the body to maintain particular swimming positions.
Men jammers are used by athletes and non athletes during training, gym activities or work out, cycling, racing, running and mostly for water sports or activities. Compared to other swimsuits jammers have excellent water resistant capacity as the materials or fabric used in the making has better water resistance capability. Some jammers of certain brands and make have chlorine resistant fabric and are best for swimming in chlorinated pools or water. Swimwear like Board shorts; trunks etc are also good option for men. They form the casual wear usually worn by men on beaches during relaxed activities and playing sports.
Most men prefer swimwear which offers great fit and are also high on comfortability factor. Young guys prefer swimwear which is minimal and shows off their physique so that they can attract female attention. Thus different people have different choices of swimwear according to their tastes and preferences. Online shopping of such swimsuits is better as online stores offer all the brands. Online sites like dealbyethan.com is of great help as several well known brands are available for purchase with their variety of styles of undergarments and swimwear. Brands like Speedo, Aqualina, Aquaswiss, Starwear, Playboy, Jellyfish Swimwear, and Beach Brasil are available here.