Specifically designed to meet the extreme demands of a man's social and private lives, Extreme underwear has quality you can trust and reliability that will never fail you.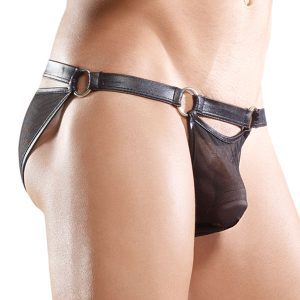 The Extreme Specialization
Extreme specializes in underwear and has a wide range that includes briefs, boxer briefs and thong underwear. All of these products are made to enhance your sensuality while providing extreme comfort. They are made to fit you like a second skin. So much so that you may even wonder if you're wearing any underwear at all!
Extreme underwear is made of high quality materials such as nylon to maximize comfort and spandex, a reliable elastic material that is strong and durable, no matter how active you are.
The Extreme Collection
The underwear made by Extreme comes in various colors and styles to fit any lifestyle and personality. If you are the bold and confident type, Extreme thong underwear is a prime choice. Wearing a thong is not only comfortable, it's also sexually revealing, and if worn at the right time, ignites passions that can lead to unforgettable sexual experiences. Extreme boxer briefs come in all sizes and colors and are suited to athletic types or those who want a snug fit. Extreme brief underwear looks like the standard underwear worn generally by men, but what separates Extreme briefs from others is the sleek design that could arouse even the most stoic of women.
Order your Extreme underwear at DealByEthan.com today, and if you are a first-time customer, you'll receive an automatic 10% discount on your purchase. The more items you purchase, the greater the discount. You can also get a discount coupon by signing up for our newsletters, which will keep you updated on all our underwear sales and promotions. So, don't wait a second longer. Order your Extreme underwear today!