The Australian home brand, which was set up in 2002, has an interesting concept which believes in a man possessing two sides – an angelic and another devilish side! In fact, their underwear is more for those kinds of people who want to indulge in their naughty fantasies. So if you are one of them go in and get a pair of Good Devil underwear! If you haven't been using this yet you don't know what you have been missing till you wear them or even set your eyes on them!
A pair of Good Devil G strings deserves special mention amongst the various naughty and bold men's underwear! The G strings give a new face and definition to erotica! In fact, a pair of Good Devil G strings are a must have! However, a word of caution here! It is not meant for the faint hearted! It reveals a lot and leaves something to your imagination.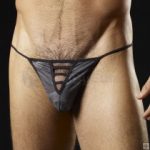 A waistband is not one of the features of this G string. There are simply some spaghetti straps that act as the waistband to keep this sexy article of clothing in place. This thin black string is quite comfortable and the pouch is the main feature of this underwear. The pouch has a cut out in shape of a V and has horizontal straps that give a sneak peek into what lies beneath! The pouch provides plenty of room and is extremely comfortable. The design of the garment is meant for low wearing so that the proud male in you can show off the natural physique lying beneath!
The outside of the pouch has a metallic finish, adding quite a bit of glamour to the garment. However, the inside of the garment is devoid of this finish which increases the comfort factor!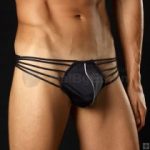 The material used for the crafting of the exquisite piece of garment is a mix of 12% spandex and 88% polyester. The spandex gives the clothing stretchability and adds to comfort factor further! Good Devil g string is perfect to be worn by those who are particularly in love with this style!
You can get your hands on not only Good Devil g strings but other kinds of sexy men's underwear of the brand as well on Deal by Ethan, the trusted online underwear shop for men and that too at a great price! Here's what is exciting- get a discount of 8.3% on all Good Devil items!