In today's world if you are a fashion-conscious individual, you will surely spend a good amount of time trying to get a nice, chiselled physique. A well-sculpted body can do real justice to a stylish outfit like a muscle top T Shirt. The sleeveless design and the tight fit are just perfect to flaunt a well-built physique. That is why this particular outfit became popular among men straight away when it came into fashion.
Gregg Homme, a popular brand from Canada has been producing stylish muscle top T-shirts that are yearned by most men. Since its inception in 1987, this brand has been focussing on the needs and demands of the fashion conscious male. Apart from muscle top T-shirts, the bikini swimwear, boxer brief underwear, brief underwear, G-string underwear, jockstrap swimwear, jockstrap underwear, loungewear, pants, thong underwear, short-sleeved T Shirts, long sleeved T-shirts, thong swimwear and all the other outfits produced by them are equally trendy and modish. With any Gregg Homme outfit, you are sure to receive admiring glances from people around you!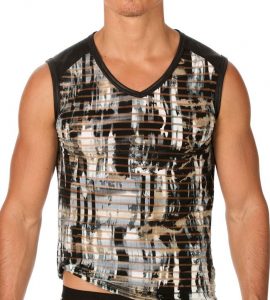 Once you cast a glance at the exclusive Gregg Homme STRIPPER V Neck Muscle Top T Shirt, you will crave it instantly. It is crafted from a unique fabric that is partially translucent and superbly thin. No wonder – this muscle top T-shirt enhances your sizzling image, making you look ravishing. You will also find the amazing overprint that is of 'burnout' stripe design and makes the outfit look fantastic. The edgy V shaped neckline along with the sleeveless cut and the adequately tight fit makes this muscle top T-shirt even more popular! The fabric that goes in making this apparel consists of polyester (92%) and spandex (8%). Both these materials ensure excellent stretchability and tightness.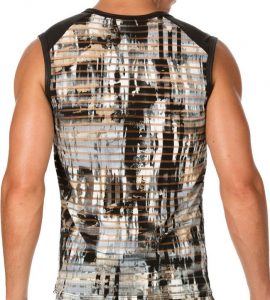 So, flaunt every curve of your chiselled body with the fabulous Gregg Homme STRIPPER V Neck Muscle Top T Shirt! You can find this product at our website DealByEthan, which offers nice discounts on various menswear as well.