The premium lifestyle brand Papi caters to the consumers of today and this is clearly reflected in their latest Platinum Thong underwear collection. The brand has mined the theme of metallic waistband for the new line and has many features that make the collection unique!
The platinum range features different cuts and styles of sexy men's underwear like short trunks, boxer briefs, low rise briefs, square cut and the thong which is the centre of discussion here. There are a variety of different colour options like white, black, orange, green, gray, light blue, red, etc. The material used to craft each of their underwear styles is a blend of 16% spandex and 84% nylon. The blend feels so smooth that it resembles micro modal. It is stretchable and of medium weight. So, you can be assured of your comfort while wearing them!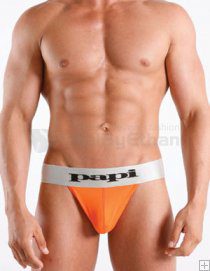 The waistband is bold and oversized at 2 inches and is metallic silver. At the very front, the Papi logo text is emblazoned boldly! While wearing thongs many people, especially those wearing them for the first time, remain concerned that they might not be too comfortable and that they may rise up if worn for a long time. But with Papi Platinum Thong underwear, you can absolutely be assured that no such thing can ever happen to you! This thong can even be worn to work and for long hours. The extra height of the waistband however, does not pose any problem when worn with low rise jeans, quite contrary to what some may think. The thong strap is not revealed at all!
The waistband's interior back has tags with the Papi logo, size and fabric information. The side tab design is crafted out of a shiny white material that is synthetic nylon. The thong's back is classic strap design and has a width of about 3 inches which then narrows down to ¾ inches along the strap. Fully covered elastic reinforces the strap edges which run along the pouch sides as well!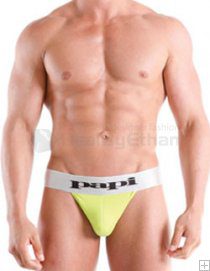 The strap fit is less stretchable which offers the best fit for your pouch. The double layer material of the pouch makes it comfortable and takes care of your modesty. It's snug fit make Papi Platinum Thong underwear ideal for great cupping and lifting!
Papi Platinum Thong underwear is a wearable and versatile piece of clothing which is great even for everyday use. To buy these you can visit Deal by Ethan for great offers and great service!