The underwear lines of N2N Bodywear are several and there are varieties offered in the cuts and styles. N2N stands for Next to Nothing and once you wear them you will feel as if you are wearing next to nothing! N2N Bodywear's latest staple is the Mojave line, which has many kinds of cuts and styles under its wing! This review focuses on the g string underwear of Mojave which is undoubtedly the smallest article of clothing sold by this brand!
The feature of Mojave line of N2N Bodywear is that all their underwear styles are available in three basic colours- rust, warm grey and olive green. You can take your pick from these three great colours according to what appeals to you and what may suit you!
The string waist is quite stretchable so that even if you buy one size smaller it will be snug and fit you just fine! In fact, even if you buy one size smaller then the fit will be even better and the pouch will remain more managed! The elastic design that is fully covered runs round the waistband and is quite durable, keeping everything secure and in place. Simplicity and cleanliness are the key features of the string and waistband. The size tag and fabric logo is kept in the pouch's interior the tag design of N2N Bodywear is unobtrusive and compact, despite the placement inside the pouch. A synthetic shiny fabric is used as the tag material which is quite thin and smooth to touch. This results in no interference with the G string's feel or fit.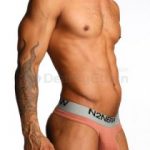 A nice curve marks the cut of the front pouch, leaving plenty of room up front. However, although the styling is minimalist, enough coverage is provided so that everything is covered up quite strategically. The pouch is quite roomy and there isn't too much shaping or lifting function that it performs. However, for all day wearing purposes it is perfect!
One very interesting feature of this sexy men's underwear is the fact that pouch top and the waistband are not anchored together except at the centre seam, allowing the pouch sides to be pulled in and providing less coverage if you so desire!
If you want something fun that offers sleek silhouettes and clean lines, then N2N Bodywear's Mojave line is the one for you! Get them at great discounts from Deal by Ethan today!