Boxer brief underwear continues to be a popular men's underwear style because it provides total coverage while providing the wearer with a flattering appearance. Suitable for men of all shapes and sizes, this type of underwear is available in myriad styles, cuts, designs and colours and range from everyday wear to athletic wear.  Made in Europe, sustainable boxer brief designs from Gassling are a hit among fashionable young men who want to do their bit for the environment.
Established in 2011, Gassling is one of the fastest growing menswear brands from Sweden. The aim of this European underwear brand is to create environment friendly underwear for today's modern men with active lifestyles. Crafted from top quality pure cotton from India and manufactured in Estonia, their garments are high on comfort, fit and quality and raise the bar when it comes to sustainability and design. Most famous for their boxer brief designs, their creations are the most preferred choice for everyday wear because they do not fail in providing excellent comfort and form retention all the time!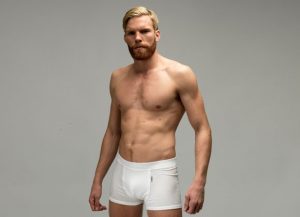 It's time to replace your old boxer briefs with some Gassling Ribersborg Basic Boxer Brief Underwear because it guarantees exceptional comfort, fit and durability – so get some now! Offered in four fantastic shades of white, mint, petrol and graphite, there is something for men seeking both classic and stylish designs. Like all the other Gassling outfits, this underwear exudes unmatched smoothness and softness the moment you slip it on due to the use of organic cotton in its construction. The presence of a small amount of elastane in its body design makes sure the garment always provide you with a better fit and has a longer lifespan at the same time.
To further elevate your comfort levels, the fabric covered waistband does not stick to the body even when you are covered with sweat due to your rigorous exercise routine. Ideal for everyday wear and suitable for all kinds of occasions, Gassling Ribersborg Basic Boxer Brief Underwear is perfect for men who prefer good quality branded underwear. Most importantly, since the famous brand does not believe in bleaching and practice eco-friendly dying process, you can be rest assured that your white boxer brief will be extremely friendly on the skin and have a natural off-white colour of its own!
If you want to try out a Gassling Ribersborg Basic Boxer Brief Underwear, drop into DealByEthan and get your hands on a pair of Gassling now! We also stock all kinds of fashionable menswear, swimwear, loungewear and men's underwear, available at the best possible rates.