ES Collection is one brand name that is indisputable for its range of versatile and well fitted underwear. They have carved a unique identity for themselves with their innovative designs, patterns and usage of colours.
Autumn 2005 saw the birth of ES Collection. The brand was the brainchild of three businessmen and the brand was launched with some samples at the Lyon fair. Since then, the brand has been unstoppable in its run for being totally different from others. The specialities of the brand are enhancing, tan-through and reversible underwear made by them. The uniqueness of each underwear helps ensure that the wearer has fun when wearing it.
ES Collection bikini swimwear and underwear is available in a unique range of different prints, colours and textures. The basic material used in the manufacture of this underwear is a mix of 80% polyamide and 20% lycra. They give an enhanced look to the wearer.
ES Collection's range of boxer brief underwear and swimwear reflects the latest fashion in the use of their prints and colours. They are thin, comfortable and smooth due to the use of the mix of 5% lycra and 95% viscose, giving them a perfect fit. This range is also available in mesh.
G string underwear and swimwear made by ES Collection is the perfect mix of comfort and daring. They are sexy and at the same time sporty and athletic. The material used is a mix of 5% lycra and 95% cotton.
For sporty men, there is also the traditional jockstrap but with a slight twist in the colours and cuts. You can also get their long underwear to provide you with that extra protection needed during extreme cold.
For those whose tastes border on the conventional, there is the ES Collection sports swimwear that can not only be used as swimwear, but can also be doubled up as something to be worn during sporting events. The cut is classic and reflects European sensibilities. There is a drawstring at the front that provides for a great fit without compromising on the comfort factor.
Their square cut trunk swimwear is made of a mix of 20% lycra and 80% polyamide. The fit is perfect, and the front pouch is padded which, gives the wearer extra protection in cold water.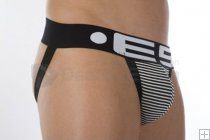 ES Collection manufactures a bunch of other things like long sleeved t shirts, short sleeved t shirts, shorts, sleepwear for those who want comfort while they sleep, tank top t shirts, v neck t shirt, etc. Be a part of the ES Collection family by buying their products only at Deal By Ethan!